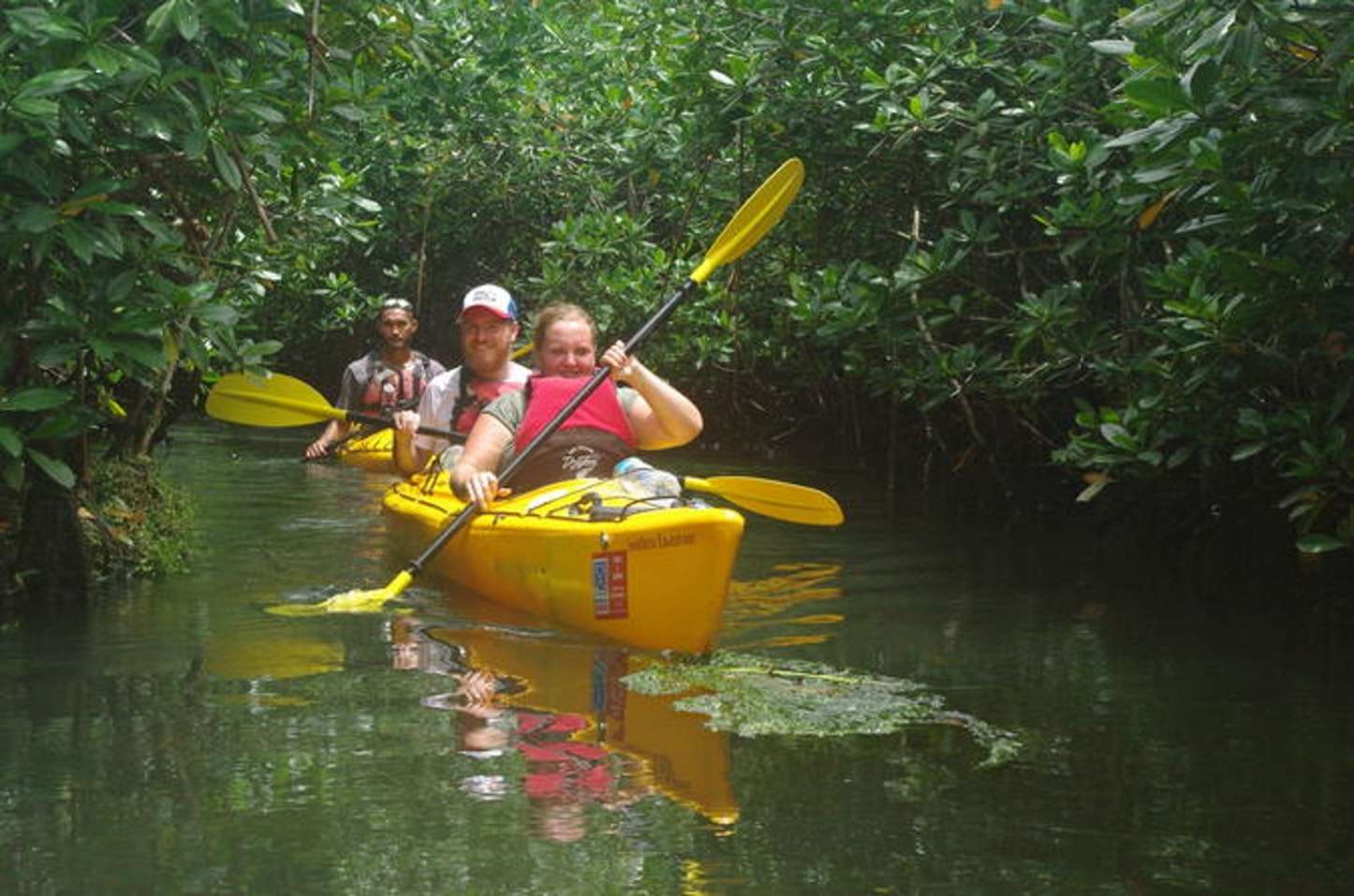 Samoan Cultural & Mangrove Eco Experience
Touch the hidden side of Samoa. At Vai Villas kayak through winding and dense mangroves to dip this in Safata Bay. Witness firsthand how coconut cream is naturally made. Sample the traditional cuisine of Samoa and learn about village life from a paramount chief.
Vai Villas Samoa, located on the central and beautiful south coast of Upolu, is an authentic and rich blend of sustainability, ecology, culture, marine sanctuary, exercise and fun. Kayak through the overhanging mangroves, twisting and turning your way 1.5km to the estuary and beach on Safata Bay. Return through the mangroves.
Experience the full process of making of coconut cream the authentic traditional way. Lua, our Paramount Chief, will explain the land, mangrove tour, legends of the area and people. A scrumptious, authentic Samoan meal on the verandah of the Vai Villa Lodge is your finale.
Saturday
8:00am Pick up at central Apia or wharf and off. 8:30am ALEISA Complete your trip with a leisurely drive through the rich agricultural hinterland. 9:15am COCONUT CREAM The authentic way. 9:45am MANGROVE KAYAK 1.5km through this pristine winding Jurassic mangrove ecosystem. 11:00am ESTUARY SWIM at SAFATA BAY Cast the kayaks aside and plunge into the estuary waters. 11:15pm RETURN PADDLE to VAI VILLAS Paddle through the mangroves. 12:00pm SAMOAN MEAL Lunch will consist of produce from the family plantations. Traditionally prepared taro, banana, palusami, oka, pan fried yellowfin tuna or albacore accompanied by a salad of water cress, tomatoes, cucumber and avocado. PARAMOUNT CHIEF Lua will introduce you to the ways and life in a Samoan village. 1:30am PAPAPAPATAI FALLS up the Cross Island Road Roadside stop to view the spectacular 110m falls 2:00pm RETURN to Apia.
Tour Costs
NZ$194pp 2 - 6 pax / NZ$165pp 7 - 8 pax

Group Size: Max 8 – Min 2
Costs Include
Pick-up • Fruit, Water & Lunch/early dinner• Guide • Hike • Fees • Kayaks • All transport & hotel drop-off to Apia Hotels.
Please Note
• Be prepared for an active day but guaranteed to be full of fun, excitement, variety and exercise. • We will get you "Off-the-Beaten-Track" to hidden sites that the normal tourist run hears little about, yet of course, we include those existing spectacular and well known sites. • Bring good footwear, maybe poles, day backpack, water bottle, swimming gear, hat, towel, sunscreen and change of clothing. • The itinerary and schedule may vary dependent upon weather and walking conditions. Consensus will be encouraged.• Transportation - our Outback style 4X4 Toyota Hilux – maybe even ride in the tray (alternative vehicle for larger pax numbers). •Refer to Terms & Conditions for Adventure Tours especially for fitness and changes to itinerary.
Terms and Conditions
Apia Hotels Included In Pick Up And Drop Off- Tanoa Tusitala, Millenia Hotel, Amanaki Hotel, Hotel Elisa, Sheraton Samoa Aggie Grey's Hotel, Taumeasina Island Resort, Samoan Holiday Hideaway.Please enquire about pick up and drop off from other properties in Upolu.
Fitness Level:
As a general rule, you need to be fit enough to walk a minimum average of 6 kilometres a day, though not all Tours will require this amount of walking. You may well encounter climbing up to 300 metres, often in slippery conditions so if you are concerned about your suitability for the Tour, please contact us and we can provide more information regarding the physical demands of that particular Tour to be able to assess any risk to yourself beforehand.
Health Requirements:
As adventures are often physically challenging and in remote locations where there is little or no reasonable access to comprehensive medical or hospital facilities. It is your total responsibility that you must be certain you are capable of fully participating in the tour activities. You must be in good mental health and have a good level of fitness for the Tour you are participating in and disclose to us at the time of booking if you have any pre-existing medical conditions that will put you at a higher risk on the Tour
Age Requirements:
Anyone under the age of 18 on the date of first travel must always be accompanied by an adult. Unless otherwise indicated in the Tour description or by the Tour Operator, the minimum age for minors travelling on any Tour is 12 years of age. Adult prices apply.
Cancellation Policy:
If you wish to cancel your Tour, you must notify us immediately in writing. Cancellation is only effective when we receive your written cancellation notification. Cancellation fees will apply.
The following cancellation fees will apply. (a) If you cancel between and including 41 and 21 days before departure you forfeit 50% of the Tour price per person. (b) If you cancel less than 21 days prior to departure or once the Tour has commenced 100% of the Tour cost per person will be forfeited. You are strongly advised to take out cancellation insurance at the time of booking which will cover cancellation fees. If you fail to join a Tour, join it after departure, or leave it prior to its completion, no refund will be given.
Cancellation By The Tour Operator:
The Tour Operator may cancel a Tour at any time up to 30 days before departure. They may cancel a Tour at any time prior to the tour departure if, due to terrorism, natural disasters, political instability or other external events it is not viable for them to operate the planned itinerary. If a Tour is cancelled before the date of departure for reasons other than Force Majeure and the cancellation is not caused by your fault or negligence you may choose: (a) a substitute Tour of equivalent or superior value; or (b) a substitute Tour of lesser value if no Tour of equivalent or superior value is reasonably available and to recover from the Tour Operator the difference in price between the price of the Tour originally purchased and the substitute Tour; or (c) a full refund of all monies paid for the cancelled Tour.
Change In Itinerary:
While the tour operator endeavours to operate all Tours as described they reserve the right to change the Tour itinerary. You will be duly notified of any such change.
Before departure:
If they make a major change we will inform you as soon as reasonably possible if there is time before departure. When a major change is made you may choose between accepting the change, obtaining a refund of money paid or accepting an alternative Tour offered. After departure: The tour operator reserves the right to change an itinerary after departure due to local circumstances or events outside of their control.
Please note that the tour operator / Samoa Scenic is not responsible for any incidental expenses that may be incurred as a result of the change of itinerary such as accommodations, visas, flights, other travel arrangements, etc.
Bookings:
All bookings are to be made on a request basis through Samoa Scenic. Email: transfers@samoascenic.com
Enquire Now
- Back -